Our creative team can produce eye-catching and memorable leaflet design that will promote your venue, event, products or business through tailored design services that meet your requirements!
Our design services pricing includes bespoke flyer or leaflet design using the text and images you supply, one set of text amendments, email proofs and print ready artwork files. If you require us to supply images, then please include that within the brief.
DESIGN SOMETHING MEMORABLE AND EYE CATCHING
Don't spend thousands on print and distribution without getting the design right first. Let DLM's design service create you the perfect leaflet prior to the big campaign.
WHAT WE'LL DO
Based on your instruction, put together a visual for you to check. We include up to 2 proofs within your price quoted. We will also source up to 5 images where applicable for your design.
WHAT WE WON'T DO
Our design services do not include the proofreading of content and will not be sent to print without written sign off.
FOR AN ADDITIONAL CHARGE, OUR DESIGN SERVICES CAN INCLUDE:
Provide additional proofs.
Type up your content where only a hard copy is provided.
Source additional images.
Scan any elements you'd like to include.
All artwork jobs are quoted on an individual basis.
What we need from you!
Please send as much relevant information as you can. This should include any preferences you have about styles and colours, plus proof-read text and any images you would like us to use. The more thorough your design brief, the faster we can turn around your artwork. If you already have a corporate identity, please supply us with corporate guidelines to follow.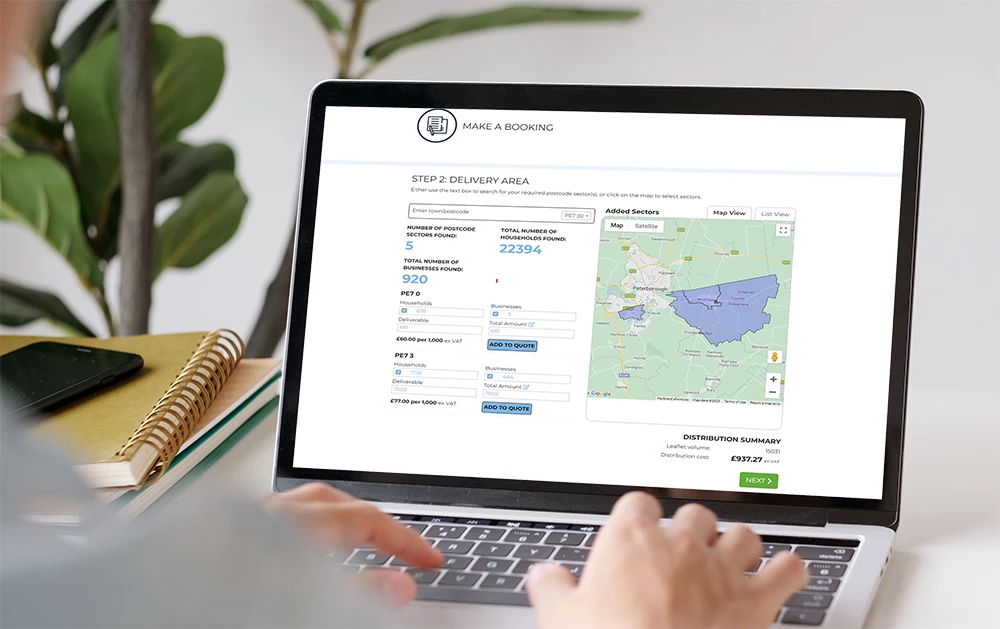 Book Your Distribution Online

Book Your Distribution Online
Create your campaign online and view household counts with our new online leaflet campaign builder 

Get a leaflet distribution quote
Submit your details and one of our experienced account managers will be in touch.